OMNISCALE REPRODUCTIONS
Homegrown is proud to announce the addition of 25mm Omniscale American Civil War structures. Cast in hydro-cal these structures are faithful to the original in every detail and readily accept paint without the necessity of priming. There are enough modular pieces available to build up to 15 variations. They are designed with detachable roofs to insert figures-excellent for skirmish gaming. Complete with instructions these models are a great value. Two models are currently available with many more in the pipeline.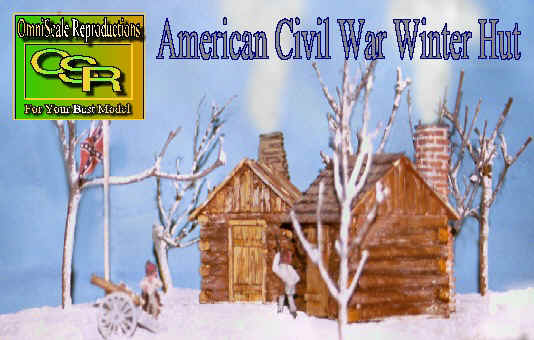 cover art of box set
The kit is made of hydro-cal with wood roof,
and precut card stock shakes.
The kit is in 25mm scale and the dimensions
are 2.5"W, 3.0"L, 3.5"H. Price of the kit is $15.00 + S&H
ACW1001 small cabin
at Averasboro $22.50

Our second kit is of a slave cabin and is representative of the cabin
that sits in the Chicora cemetery on the Averasboro battlefield near
Dunn, North Carolina. This kit is also of hydrocal with precut card
stock shingles. Its dimensions are 3.5"W, 6.0"L, 4.25"H. Price of
the kit is $15.00 + S&H
No one makes what you want?
Individual quotes are available for custom work
Coming soon ....
We hope to release three more kits after the beginning of the year.
Two will be cabins modeled from those standing at Bentonville,
North Carolina and the other will be of generic "pup" tents.